As we ring in the new year, it's time to start planning your next vacation for 2019. If you love interiors and travel as much as we do, check out this list of our top 5 favorite eco-hotel destinations with design in mind.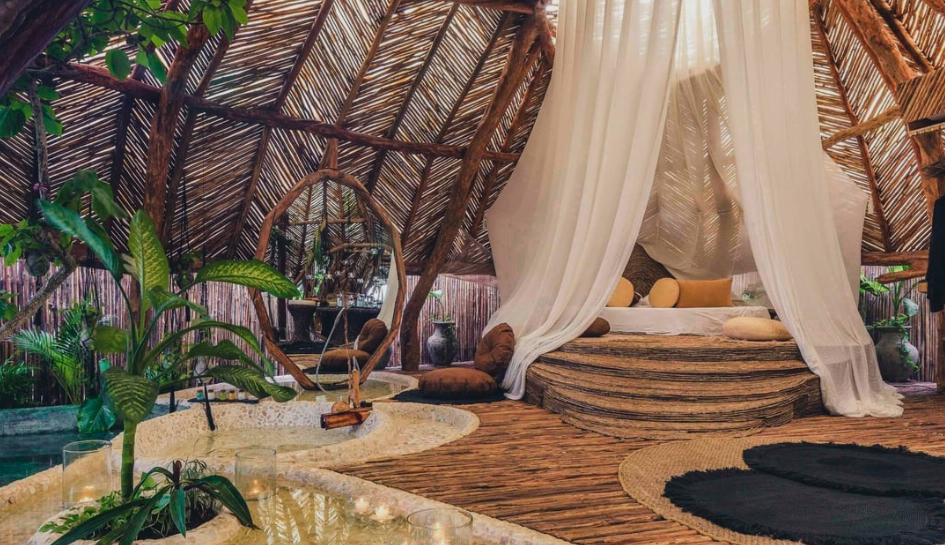 Photo Courtesy of Azulik
Nestled along the Yucatan Peninsula on the coast of Tulum, you'll find a magical getaway named, Azulik. "Water is the beginning of the reconnection process with yourself, your loved one, and the environment." Azulik is a sustainable resort that connects you with the nature in which you're surrounded in. The water that is used throughout the resort comes straight from their sacred Cenotes. Cenote water is known to be filled with vitamin- and mineral-rich algae that nourishes and protects your skin. Their interiors reflect the outdoor jungle of Tulum that surrounds the entire property. With elevated bridges that connect you from your room to anywhere else on the property, places you high among the jungle trees, making you feel like you're in your own private oasis. All of the interior furniture pieces are custom and designed on the property while using sustainable and harvested trees. Fresh Cenote water is connected to an irrigation system that feeds the surrounding vegetation. In addition to preserving the soil that surrounds Azulik, the resort is also mindful of the surrounding wild life. With a rapid increase of tourism in Tulum, there is great concern for how it affects their animal neighbors. You will notice that there are no electrical lighting systems all throughout the resort, only candle light. This is due to the hatching of baby sea turtles. When the baby sea turtles hatch from their eggs along the beach, they must follow the moonlight in order to reach the ocean. Due to increased tourism, these baby sea turtles are mistaking electrical lights from the surrounding resorts for moonlight, resulting in a decrease of baby turtle survival. Azulik is the perfect destination for eco-conscious visitors and interior design enthusiasts.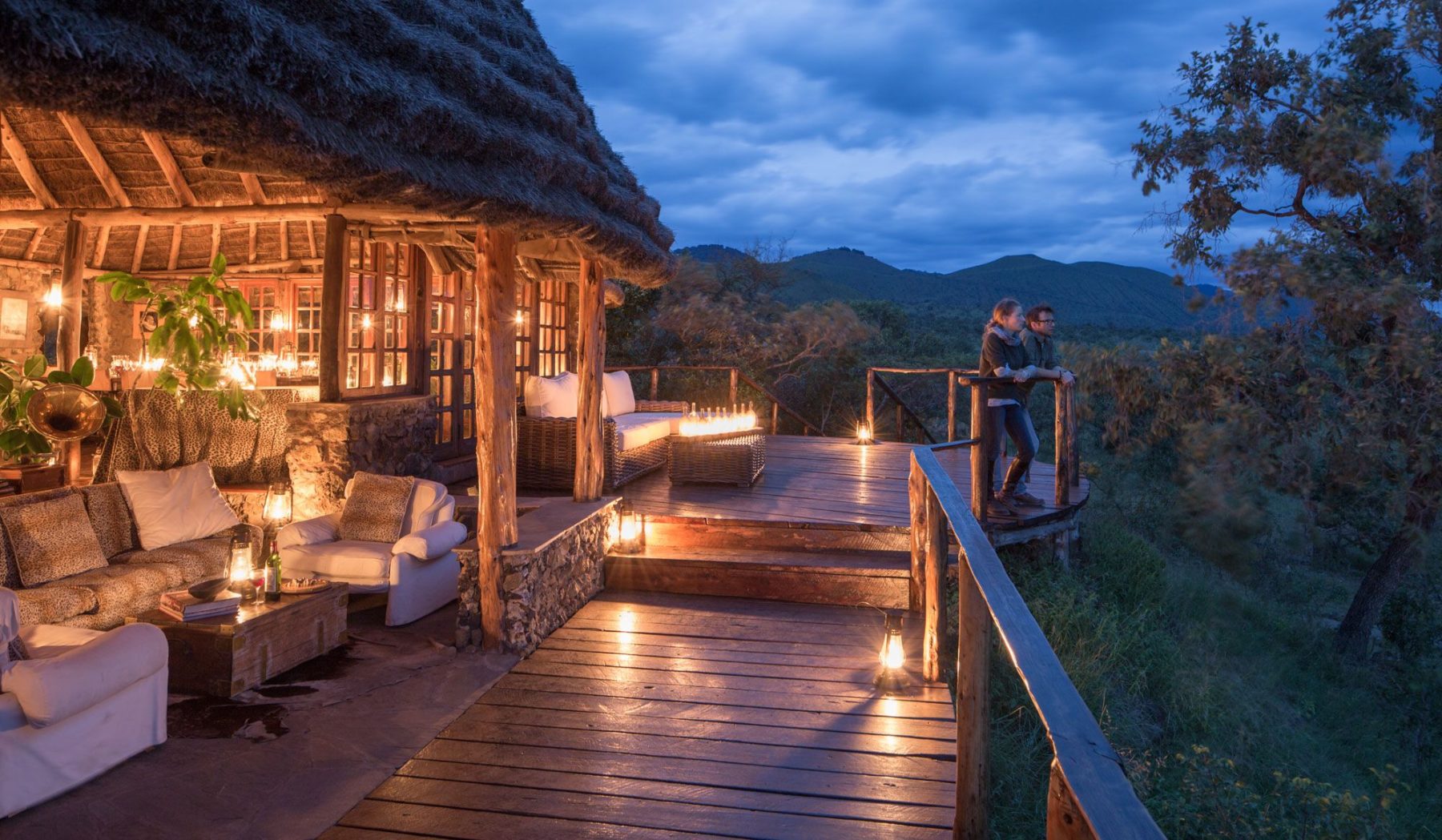 Image Courtesy of Campi ya Kanzi
Located in the Chyulu Hills of southern Kenya, is an award-winning boutique eco-hotel. This "Camp of the Hidden Treasure" is the only safari lodge on a Maasai-owned reserve spanning 283,000 acres of pristine wilderness. Campi ya Kanzi partners with a safari conservation company. "The lodge founding principle is to prove to the Maasai landlords that wilderness with thriving wildlife is worth protecting, because if pays economic dividends." Its tented cottage suites are all constructed by local Maasai people from surrounding fallen trees and the entire property is powered by solar energy. Rainfall is recycled and collected through a water catchment system that provides filtered water that is pumped into ponds, sustaining wildlife. Cooking is done over eco-friendly charcoal and the resort tries to recycle their waste as much as they can. To top it all off, the camp visitors support the resort's conservation by contributing a $101 daily fee. With this daily fee, the organization pays locals in the area with the money in exchange for not poaching the leopards and lions that threaten their livestock.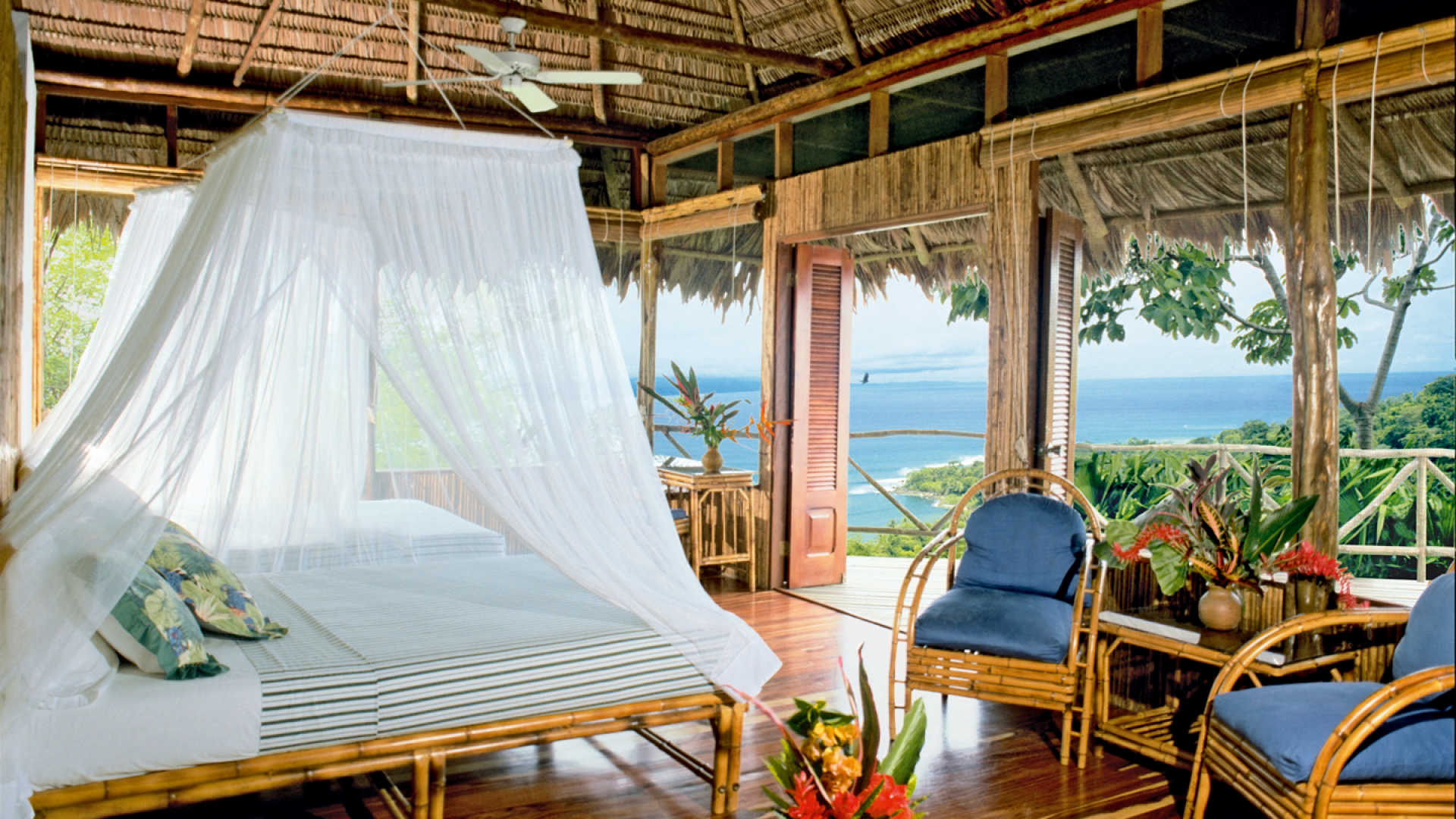 Photo Courtesy of Kuoni.com
"We strive to use tourism as a means to acquire and protect the surrounding endangered rainforest instead of allowing it to take a toll on this precious and finite resource." Featured in National Geographic, Lapa Rio Ecolodge is located on the Osa Peninsula in Costa Rica on a 1,000 acre private reserve. Costa Rica faces many issues from poaching to deforestation and the goal of this resort is to preserve what surrounds them. It has many sustainable qualities including solar powered water heating systems, organic cleaning products and bath amenities, a sustainable vegetable garden, and a no-plastic policy. Venture off and learn about how easy it is to "Go Green" by attending one of their complimentary "Twigs, Pigs & Garbage Tours", that shows their guests all of the many ways the resort practices green living, including a tour of their ranch that homes their bio-gas-producing piglets. "We believe that no matter how you cut it, a rainforest left standing is worth more." In addition to preserving the plant, Lapa Rios has been giving back to their education and community for over 25 years. Next to their nature preserve, Lapa Rios created a school called, Carbonera School. For over 2 decades, funds supported by generous donations from hotel guests help keep this elementary school in motion. Carbonera School was one of the first sustainable developmental initiatives in this remote and low income communities that teaches both traditional and environmental education. In addition, Lapa Rios Ecolodge holds an annual Lapathon Race. The funds from the Lapathon Race have benefitted local schools, supports the local Red Cross and health clinic, and created a sports area for teenagers.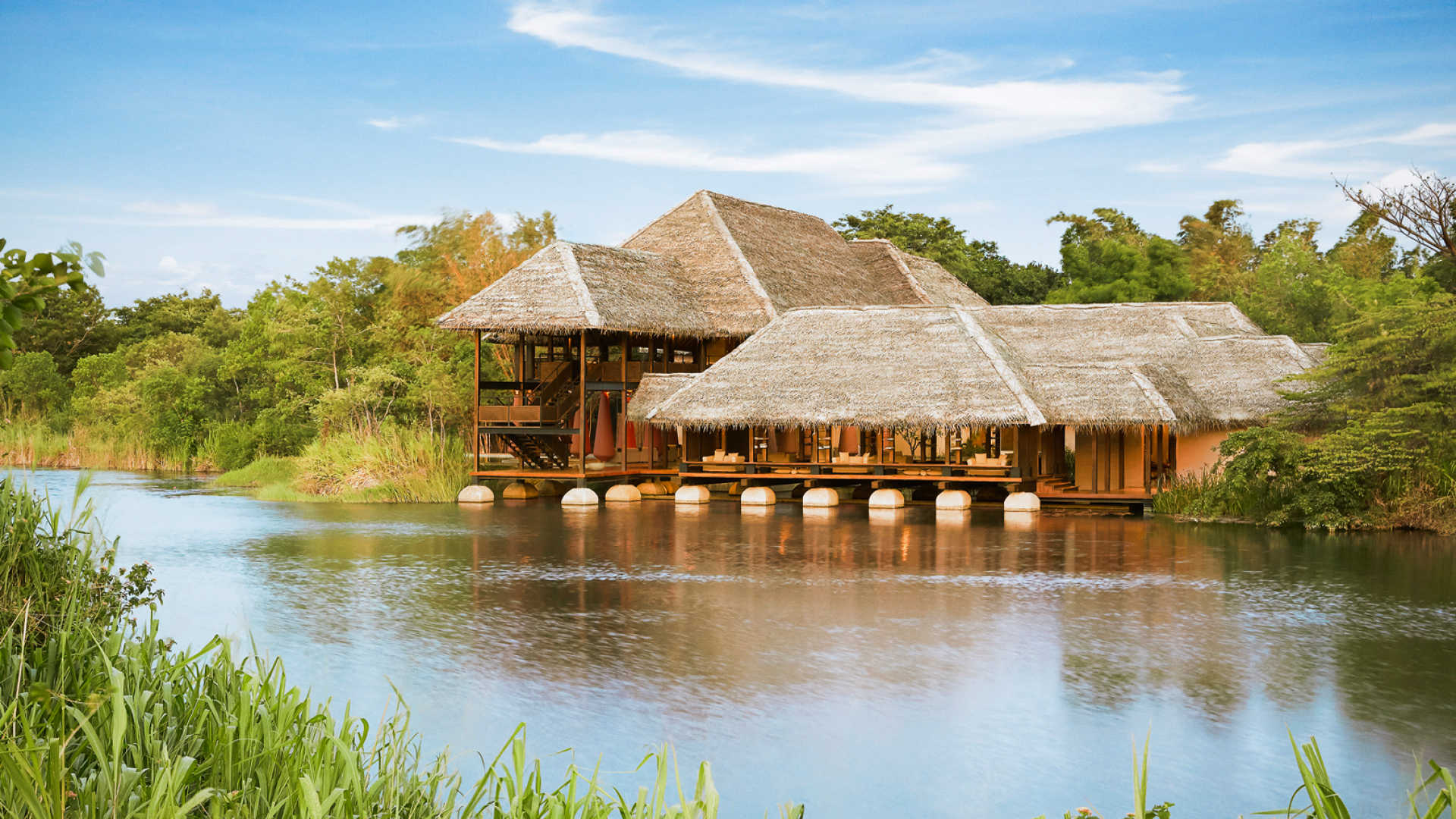 Photo Courtesy of Kuoni.com.uk
Since this eco-resort was built on top of man-made wetlands that were previously used for slash and burn agriculture, Jetwing Vil Uyana increases the area's biodiversity. On this 28 acre agricultural land, enjoy many activities ranging from self-guided trails to safari's and excursions through the hills of Sigiriya. The architectural design concept flows consistently through the entire resort. It's concept is to preserve and to leave the least amount of carbon footprint as possible. Large open spaces reduce the requirement for artificial light and ventilation. Its roof helps reduce heat gain during the day which minimizes the need for air conditioning and also serves as a natural interior cooling system due to it's clay-mixed plaster material. The lounge and library are designed and built over surrounding waters which also play a part in the resort's natural cooling systems. The man-made lakes are filled with harvested rain water which means that they do not have to compete with local farmers by extracting water from local sources such as irrigation canals. All wastewater from the hotel is also treated onsite and is recycled for irrigation purposes to reduces freshwater usage on the property. Jetwig Vil Uyana is powered through solar and all food waste that is generated from the hotel, which produces up to 33m3 of gas. Their Jetwing Eternal Earth Programme (JEEP) works to innovate in ecotourism and give back to the community which makes them an over-all outstanding eco-resort for your next vacation.
5. Hi Hotel – Nice, France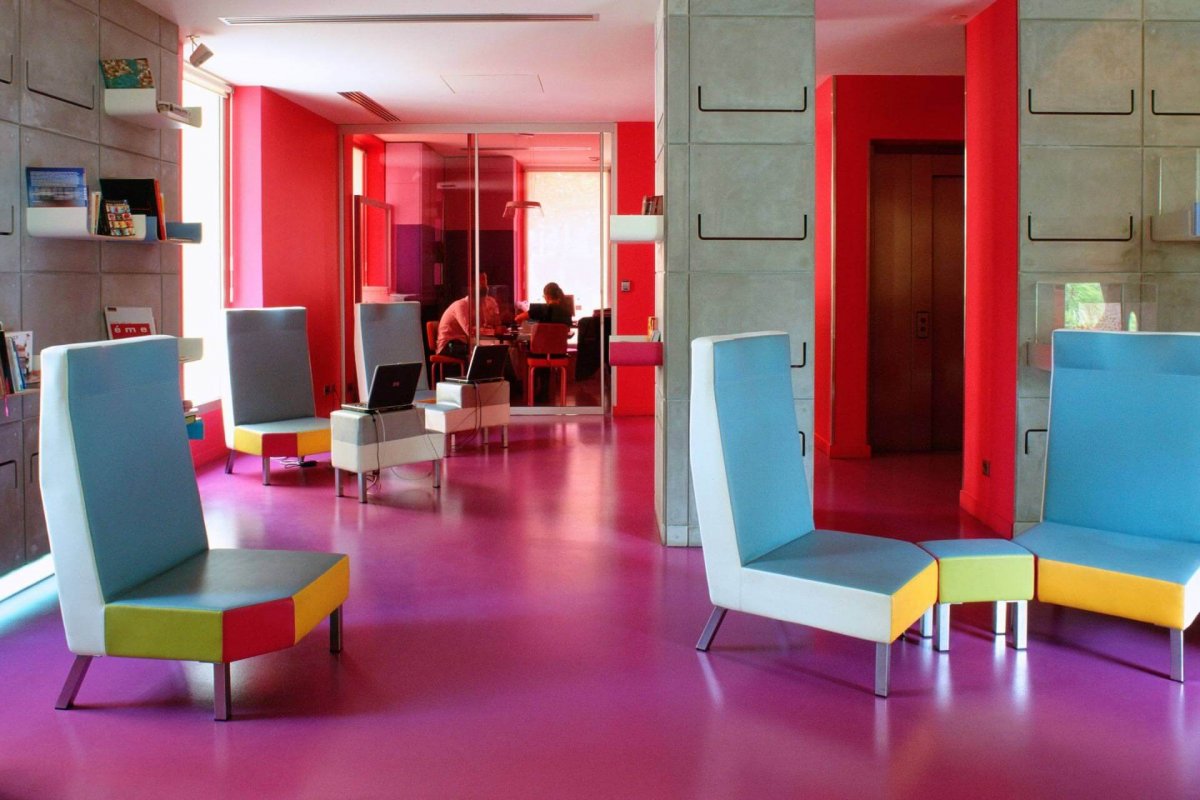 Image Courtesy of temptingplaces.com
Located in Nice, France, is a beautiful Green Globe Certified eco-hotel with 38 rooms that each have their own design concept: Active (Technocorner, Strates, Digital), Urban (Monospace, Happy Day, Up & Down), Hi Studio (Indoor terrasse, White & White, Techno Corner), Terrasse (White & White, Rendez Vous), and Hi Suite (Rendez Vous & Technocenter). Each room utilizes vibrant colors and modern finishes, creating a cheerful and chic experience for its visitors. Hi Hotel practices sustainable living by serving organic food in their dining area and uses eco-friendly cleaning products and recycled paper. If you're looking for an adventure, Hi Hotel provides its guests with bicycles for an eco-friendly transportation option for when you wish to travel to their local beach, just a short couple of blocks away.